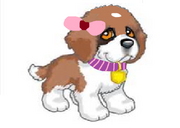 Carmen is a kind, shy, and short-tempered St. Bernard puppy. She loves to play games, read novels, watch romance movies, and plant flowers. On the other hand, she hates hot weather and Notria and Krakia making fun of her. She is going out with Digger.
Relationships
Digger (boyfriend)
Magic (best friend)
William (best friend)
Treena (best friend)
Moona (friend)
Polly (friend)
Kate (friend)
Princess Ava (friend)
Mike (friend)
Stretch (friend)
Tickles (friend)
Eva (enemy)
Zull (enemy)
Gort (enemy)
Krakia (enemy)
Notria (enemy)
Love Interests
Carmen was in love with Magic, but broke up with him.
She also fell in love with William, but broke up with him as well.
Now, she and Digger are madly in love.
Ad blocker interference detected!
Wikia is a free-to-use site that makes money from advertising. We have a modified experience for viewers using ad blockers

Wikia is not accessible if you've made further modifications. Remove the custom ad blocker rule(s) and the page will load as expected.