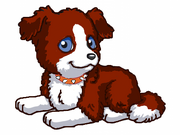 David is the third youngest of Angela and Mitch's puppies. He is a Red Collie with his father's blue eyes.
Like his other siblings, most of his speech consists of foul language, which makes him popular with the other puppies. He and his brother, Marcus, play on the PawStation (Playstation) a lot, but David loses most of the time. He really loves the treats that his Uncle Willis gives him.
He and his sibilings eventually got tired of swearing, after all that paw whacks from Queen Ava V and getting repeatedly told that his mother should not tolerate his and his siblings' curses.