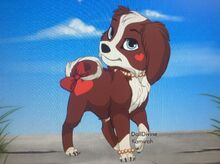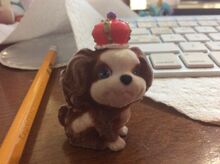 Elizabeth is a Cavalier King Charles Spaniel that lives in Mirrored England.
She is described to be a dark brown and white dog with long, silky fur, blue eyes, and usually wears a small replica of the British crown on her head.
Trivia
Like Tia, Elizabeth also frequently visits Pocketville via a portal that leads there in the Buckingham Palace basement.
Her owner is Queen London I, the queen of the Mirrored United Kingdom.
She is named after Queen Elizabeth II.
She is more girly than Tia.