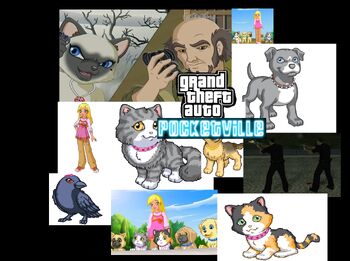 Grand Theft Auto: Pocketville Series is a fan based series, based off the Grand Theft Auto games Franchise and the Puppy in My Pocket franchise.
Grand Theft Auto: Pocketville.
Grand Theft Auto Pocketville is a game that includes puppies and kittens causing death and destruction, or doing missions. However, the player can be killed or arrested by the royal guards or cops.
The player is free to do whatever he or she wants, they are able to get in a vehicle, e.g an ambulance, and proceed to do a mission, to gain money.
Characters
You are able to play as 6 males and 2 females: Magic, Willis, Zull, Gort, Eva, Milo, Eve and Alex.
With Magic, you are also able to play in the Big City for free, which is not possible with the other characters unless they do a number of missions.
Grand Theft Auto:Pocketville
After the events of Puppy In My Pocket, and upon Princess Ava's return, Magic returns to aid his cousin Maggie who has gone into debt by a loan shark, despite his return to Pocketville, Magic has to deal with gangs, Eva's return to Pocketville and Willis, William's brother running the royal guard during his absonse and the new Pocketville Military keeping a close eye on him, there are nemirous gangs in Pocketville, in cluding Willis's own gang known as The Pocketville Protecters, whom are run by Willis and Eva, The Pocketville Protecters are the underground freedon fighers of Pocketville, their job is to help Magic, Willis and Eva against the raging gangs. While dealing with these new problems, Magic also returns to his friends at the royal guard.
Hello Friends

This article is a stub. You can help Puppy In My Pocket Fanon Wiki by expanding it.
Ad blocker interference detected!
Wikia is a free-to-use site that makes money from advertising. We have a modified experience for viewers using ad blockers

Wikia is not accessible if you've made further modifications. Remove the custom ad blocker rule(s) and the page will load as expected.