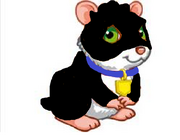 Greg is a black and white hamster and Goldie's brother. He is very nice, kind, and in love with Tickles, one of Princess Dream's Royal Gaurds. He's also a great cook like his sister, so when he graduated from Pocketville Pet High, he opened up a popular diner called Greg's Diner.
So far, he has not appeared or been mentioned in "Pets in My Pocket."
Ad blocker interference detected!
Wikia is a free-to-use site that makes money from advertising. We have a modified experience for viewers using ad blockers

Wikia is not accessible if you've made further modifications. Remove the custom ad blocker rule(s) and the page will load as expected.