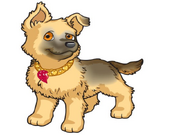 Magic is Kate's faithful German Shepherd puppy. He's very kind and trusts Kate with his life. He serves as the co-main character along with Kate.
Together with the Royal Guards, the two carry on the important work of Princess Ava, the young ruler of the Pocket Kingdom, who was accidentally sent to the Kate's world by her jealous twin sister, Eva. Their task is to match lonely children with new pet companions until the princess can find her way back home.
History and Personality
Magic's Pocketville name was Aristolfo. He didn't like that name and so was overjoyed with the new name Kate gave him. He was the first puppy to be chosen on Pocketville's 400th anniversary.
Magic is the only other animal character, besides Ava and Eva, to wear the Friendship Heart, while Kate is the only human character to wear it.
He's the only one who calls Kate "Katie." As her best friend, he's is very protective and thinks the world of her. He also gets along well with Kate's family.
At his core, Magic is cheerful, kind, protective, brave, and cares deeply about others' well-being.
Character Profile
Full Name: Oristolfo Magic Alcott
Breed:
German Shepherd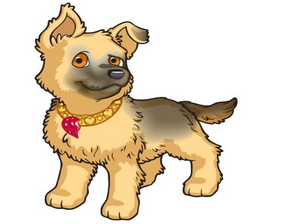 Coat: Creamy brown with black patches
Eyes: Dark pumpkin orange
Family: Maggie (Cousin)
Friends: Kate (Best Friend)
Liam X (Best Friend)
Skippy (Best Friend)
Danny (Friend and Fellow Royal Guard)
William (Friend and Fellow Royal Guard)
Balloon (Friend and Fellow Royal Guard)
Mela (Friend and Fellow Royal Guard)
Wallace (Big City Friend)
Queen Ava V (Friend)
Queen Eva VII (Friend, formerly an enemy)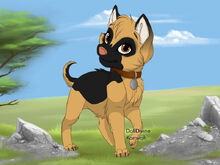 Love Interests
Magic develops a secret crush on the adventurous husky puppy, Juno, who has feelings for him as well. Once they confess their feelings, they start courting one another.