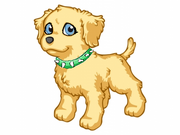 Sandy is the eldest of Angela and Mitch's puppies. She is a Retriever like her brother, Marcus. She enchants everyone with her winning smile and kindness toward others, but the other puppies also like her because she watches "Pet Park" and isn't afraid to swear. She bites her potty tongue in front of her parents and sister, though. Almost every day after school, Sandy and Mandy hang out at the Collar Parlor to chat with their friends.
Ad blocker interference detected!
Wikia is a free-to-use site that makes money from advertising. We have a modified experience for viewers using ad blockers

Wikia is not accessible if you've made further modifications. Remove the custom ad blocker rule(s) and the page will load as expected.