Skippy/ravage
250px
Bio

gender:

male

Species

cat

Personality and traits:

smart mouth,heroic,Caring

fur color:

Gery with black stripes

Eye color:

green

Skills:

Spin dash,emotion transformation
Skippy is
Liam X
's tabby kitten. Like Magic with Kate, Skippy follows Liam X wherever he goes and helps him with bullies at school. When he shows up, he knows how to make cowardly enemies like Zull and Gort back off.
Skippy has two different personalities. The first is his primary self, the housecat, while the second is his secondary self, the combatant.
His first personality is playful and happy. He loves to play fetch, help Liam catch frogs, and chase stray dogs (he and Liam despise all dogs except their Pocketville friends). He loves to race and play ball with William, Magic, and Danny. Princess Ava is in love with him.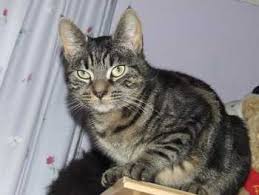 As for his second personality, Skippy (or Ravage, as he's known in this form) only falls back on it when he has to protect Liam X or his friends. During his transformation, he triples in size, reveals previously-hidden scars all over his body, and his strength increases tenfold. He can be atypically aggressive with his allies in this form, however, which has Liam worried.
Likes
Playing fetch
Winning races
Pizza
Gatorade
Helping Liam X
Hunting
Playing video games
Princess Ava
Magic
Raw meat
Swimming
Dislikes
Santi X
Liam X's school/enemies
Zull and Gort
Fleas
Ticks
Tummy rubs
Dogs
idea voice actors
Ryan Drummond
Jaleel White
Jason Griffith
Martin Burke
Roger Craig Smith
Meg Inglima
Your thoughts
Which voice actor do you think fits for skippy if he was in the show?Use this to help http://www.behindthevoiceactors.com/voice-compare/Sonic-The-Hedgehog/Sonic-the-Hedgehog/
Which charecter do you think should be Skippy's girlfriend?
Should skippy have another voice actor for him when turns into ravage?
Ad blocker interference detected!
Wikia is a free-to-use site that makes money from advertising. We have a modified experience for viewers using ad blockers

Wikia is not accessible if you've made further modifications. Remove the custom ad blocker rule(s) and the page will load as expected.