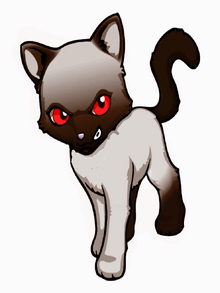 Vae is the evil daughter of Bone and Eva ( Bone is deceased ) After the events of Puppy In My Pocket : Adventures In Pocketville, Eva met up with Bone and had a child, Vae was born. Vae's siblings which was going to be called Flay and Lazer, died during birth, Vae made it to the end of the war being inside Eva's belly. Shortly after that, Bone was assigned to watch out in Pocketville Colemine, and had to be brought quickly, A few seconds later, The men's birds died, and Bone died, Eva cried, but she still had her precious girl Vae, She'd lost Flay and Lazer, and even her loved one Bone, It was only her and Vae.
Ad blocker interference detected!
Wikia is a free-to-use site that makes money from advertising. We have a modified experience for viewers using ad blockers

Wikia is not accessible if you've made further modifications. Remove the custom ad blocker rule(s) and the page will load as expected.