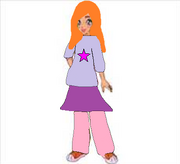 Wendy is
Lovebug
's owner and one of the main characters of 
"Pets in My Pocket."
Wendy is a lonely little girl until Princess Ava sends Lovebug to be her special friend. A few minutes later, she comes across half of the Golden Friendship and decides to wear the pretty jewel as a bracelet. She turns to ask Lovebug how it looks on her and is thrown for a loop when her puppy actually answers!
When Freddy comes over a few days later to visit Lovebug, Wendy finds that she can understand him as well and realizes that the jewel must have given her the power to communicate with animals. Lovebug and Freddy explain about Pocketville, and though they have no idea where the Golden Friendship came from, they take care to mention its striking similarity to the Friendship Heart.
Now, they've made it their mission to find out more about the jewel and why it's here in this world in the first place.
Ad blocker interference detected!
Wikia is a free-to-use site that makes money from advertising. We have a modified experience for viewers using ad blockers

Wikia is not accessible if you've made further modifications. Remove the custom ad blocker rule(s) and the page will load as expected.